Lachat QuikChem 8500 Flow Injection Analyzer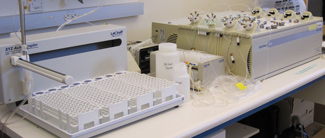 The Flow Injection Analyzer (FIA) is used for determination of major nutrients, including ammonium, nitrite/nitrate, silica, phosphorous, sulfur in water samples.
High sample throughput and simple but rapid method changeover.
Extended range detector for determining ionic species in a variety of sample types from sub-ppb to percent concentrations.
Over 400 documented QuikChem analytical methods available.
Common Applications:
Ammonium, Silica, Nitrate + Nitrite, Phosphorus.
Potential Capabilities:
Anionic Surfactants, Alkalinity, Hardness, Cyanide, etc .
Sample Types:
Drinking water, waste water, seawater, brackish water, soil, plant material, fertilizers, foods, etc.
Documents & Resources: